Best Video Marketing Agencies - Prices to Suit All Budgets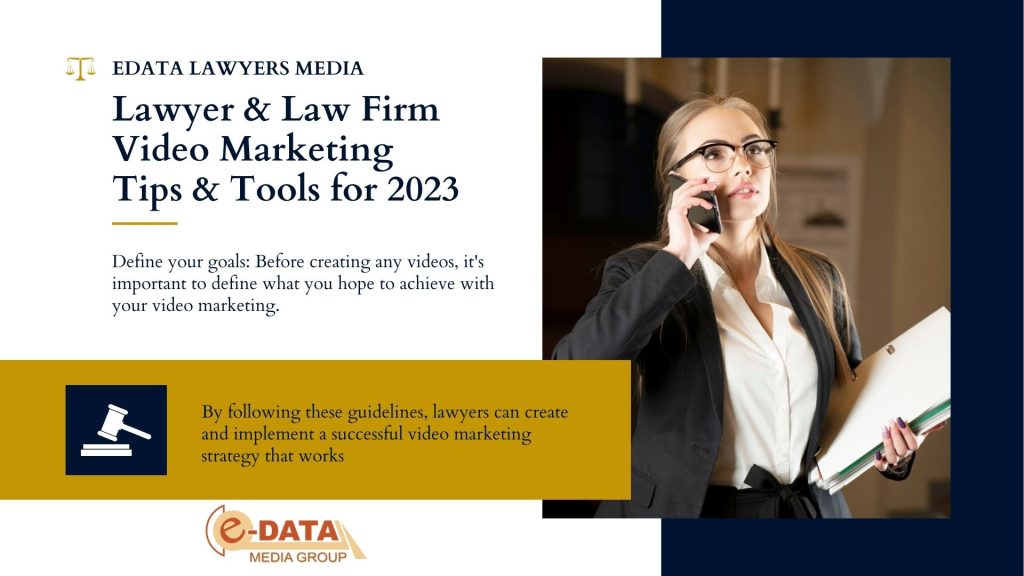 There are two primary costs involved with law firm video marketing. The first is the cost of producing your videos which can vary greatly depending on the length, quantity and scope of video
Lawyer & Law Firm Video Marketing Tips & Tools for 2023
Here is a FREE guide for Guide to Law Firm Video Marketing:
Define your goals: Before creating any videos, it's important to define what you hope to achieve with your video marketing. Do you want to increase brand awareness, generate leads, or educate potential clients about specific legal concepts? Once you have a clear goal in mind, you can create content that is tailored to achieve that goal.
Identify your target audience: Understanding who your target audience is will help you create videos that are relevant and engaging. This includes identifying demographic information such as age, location, and interests, as well as understanding their pain points, and what type of legal issues they might be facing.
Create a content plan: Once you know your goals and target audience, you can create a content plan that outlines the types of videos you will create, how often you will release new videos, and where you will share them.
Invest in quality production: The quality of your videos can make or break your video marketing strategy. Invest in professional-quality equipment, lighting, and editing software to ensure that your videos look polished and professional.
Optimize for search engines: Optimizing your videos for search engines by including relevant keywords and tags in the video title, description, and transcript can help increase visibility and drive more traffic to your website.
Share on multiple platforms: Share your videos on multiple platforms such as your website, YouTube, Facebook, Instagram, LinkedIn, and other social media platforms to reach a wider audience.
Use calls-to-action (CTA): Include a clear call-to-action in your videos, such as asking viewers to visit your website, schedule a consultation, or sign up for your newsletter.
Measure and analyze results: Use tools like Google Analytics and social media analytics to track engagement, website traffic, and conversion rates. This will help you understand which videos are resonating with your target audience and which need to be tweaked.
Test, iterate and optimize: Keep testing different video formats, lengths, titles, and thumbnails, and see which ones perform better. Use the data you gather to improve the videos and make them even more effective.
Keep it consistent: Consistency is key, keep releasing videos at a steady pace and keep your branding consistent across all videos.
By following these guidelines, lawyers can create and implement a successful video marketing strategy that helps them connect with potential clients, establish their reputation as experts in their field, and drive more business to their law firm.
you always have the option to hire eData Media professional team.
To learn more about our Lawyers advertising check out our website : https://edata.media/lawyers/
We do post great information for you: https://www.facebook.com/EdataMediaGroup
Call me to set you up with our media experts: – 561-212-3370 Adam Elisha
Recent Comments
No comments to show.